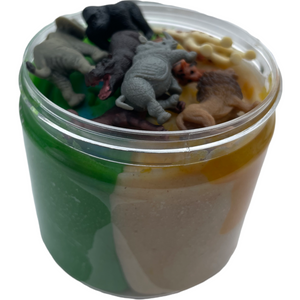 Little Munchkins Playdough
 
 
The Wild Fun Pack represents some of the best-known large mammals in the world, including the Okapi, Lion, Giraffe, Elephant, Tiger, Gorilla, Rhinoceros, and Hippo. They are also all species that desperately need greater protection.
 
History: The continent of Africa contains such a diverse range of ecosystems. A Mediterranean northern coast gives way to the hot sands of the Sahara Desert. Farther south, swaths of rainforest are still home to Gorillas and Chimpanzees. In the east, tall mountains dominate the landscape, and even farther south, the land opens into vast grasslands.
Characteristics: With the exception of the Tiger, all of these creatures can be seen in Africa. This Fun Pack makes a great car ride toy, plus it's perfect for geography or science projects.
Size: Like all Safari Ltd toys, the figures in the Wild Fun Pack are sculpted and painted with realism in mind. The pack itself is 4 inches square, and the figures are the size of grapes, about an inch each.
The Wild Fun Pack is part of the Good Luck Minis® collection.
All of our products are Non-toxic and BPA free.
8 Pieces Per Bag. Contents Cannot Be Purchased Individually.
 
Relax and unwind with our in the wild dough with 8 piece safari Ltd good luck minis sat on a double colour of dough real sand with a hint of yellow and a blue & green marble (280) large pot.  

Our deliciously scented, long lasting and luxuriously soft playdough is made with little hands in mind. It provides a wonderful creative, tactile and sensory learning experience whilst developing fine motor skills. Your children will love squeezing, poking, pinching, squashing and patting it. 
Little Munchkins Playdough is made from completely non-toxic, food grade ingredients. Whilst all are safely ingestible on their own, the playdough has a very high salt content, so it is not recommended to be eaten.

Playdough should be stored in the air tight jar provided and in a cool dark place. Whilst we work hard to produce consistent colours with what you see, there could be slight colour variations due to monitor and phone colours as well as the postage environment . Remember your dough likes to be handled regularly.

Salt crystals - If your dough is left unused salt crystals may appear on top. This is perfectly normal, the dough is fine . Play with it and the salt crystals will disappear back in to the dough. Some sets contain loose parts which could be a choking hazard. Be vigilant.

Recommended for children 3+ years. Adult supervision required. Playdough and kit should not be left unattended or stored in a place children have access to, Kits contain small parts which could be a choking hazard. Little Munchkins is not responsible for any injury associated with the use of this product. Some items contain colourings, essence and dyes that could be harmful if used inappropriately or ingested. Playdough to be discarded after 6 months if stored in an airtight container. 

ALLERGEN INFO: Contains WHEAT , Salt , Food Colouring / Plant Dye, Cream of tartar, Vegetable oil, Essential oil. Does not contain... Nuts, dairy, eggs or soy, but is handmade in a facility that contains those items so even though the utmost care is taken to produce playdough in a clean environment, cross contamination could occur. Essential oil used – Please see bottom of container.
The In The Wild destined to impress, and priced at only $11.00, for a limited time.

Inventory Last Updated: Dec 05, 2023