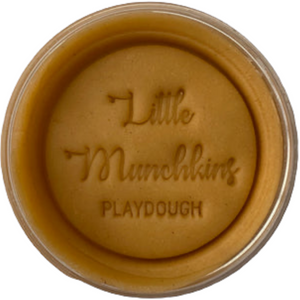 Little Munchkins Playdough

Our deliciously Xmas candy flavoured long lasting and luxuriously soft playdough is made with little hands in mind. It provides a wonderful creative, tactile and sensory learning experience whilst developing fine motor skills. Your children will love squeezing, poking, pinching, squashing and patting it. 

Little Munchkins Playdough is made from completely non-toxic, food grade ingredients. Whilst all are safely ingestible on their own, the playdough has a very high salt content, so it is not recommended to be eaten.

Playdough should be stored in the air tight jar provided and in a cool dark place. (Swirl rolls containers not provided) Plastic Wrap could cause severe harm or death. Remove before play and keep away from children. Whilst we work hard to produce consistent colours with what you see, there could be slight colour variations due to monitor and phone colours as well as the postage environment . Remember your dough likes to be handled regularly.

Salt crystals - If your dough is left unused salt crystals may appear on top. This is perfectly normal, the dough is fine . Play with it and the salt crystals will disappear back in to the dough. Some sets contain loose parts which could be a choking hazard. Be vigilant.

Recommended for children 3+ years. Adult supervision required. Playdough and kit should not be left unattended or stored in a place children have access to, Kits contain small parts which could be a choking hazard. Little Munchkins is not responsible for any injury associated with the use of this product. Some items contain colourings, essence and dyes that could be harmful if used inappropriately or ingested. Playdough to be discarded after 6 months if stored in an airtight container. 

ALLERGEN INFO: Contains WHEAT , Salt , Food Colouring / Plant Dye, Cream of tartar, Vegetable oil, Essential oil, Glycerine . Does not contain... Nuts, dairy, eggs or soy, but is handmade in a facility that contains those items so even though the utmost care is taken to produce playdough in a clean environment, cross contamination could occur. Essential oil used – Please see bottom of container.

Swirlsation – Wheat, Rice, Corn Flour, Jojoba oil ,Coconut Oil, Glycerine , Cream Of Tartar

Gluten Free Rice flour, Corn flour, Jojoba oil, Coconut oil, Cream of Tartar , Glycerine 
The Beige Delight is evocative, to say the least, but that's why you're drawn to it in the first place.

Inventory Last Updated: Dec 09, 2023