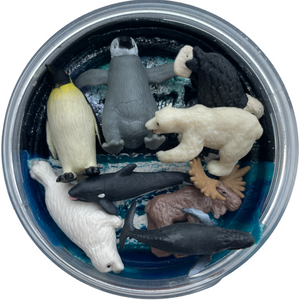 Little Munchkins Playdough
 The Polar inhabitants in the Arctic Fun Pack hail from the coldest spots on the planet. They include a Humpback Whale, Emperor Penguin and Chick, Bald Eagle, Polar Bear, Harp Seal, Moose, and Killer Whale, all creatures that have adapted to life among the ice.
 
History: The polar regions, the Arctic and Antarctic, have long called out to explorers and adventurers, despite the forbidding climate. Exploration in the Arctic circle began with the seafaring Vikings, one of whom discovered Iceland in 870 AD. Over 100 years later, another Viking, Erik the Red, was exiled from Iceland and made his way west to discover Greenland. By the 1500s, with sailing ships and methods improved, interest in the Arctic was renewed, as European leaders desired a shorter route to trade with China.
Characteristics: Lovers of the tundra, snow, and frigid waters come together in this Arctic Fun Pack. Share it at a winter party or use the figures in an ecosystem project.
Size: The bag containing these 8 mini figures is 4 inches square, while the figures themselves are all about the size of a paperclip.
The Arctic Fun Pack is part of the Good Luck Minis® Fun Packs collection
All of our products are Non-toxic and BPA free
8 Pieces Per Tub. Contents Cannot Be Purchased Individually.
 
Relax and unwind with our Arctic at night dough with 8 piece safari Ltd good luck Arctic minis sat on a northern light theme dough (280) large pot.  

Our deliciously scented, long lasting and luxuriously soft playdough is made with little hands in mind. It provides a wonderful creative, tactile and sensory learning experience whilst developing fine motor skills. Your children will love squeezing, poking, pinching, squashing and patting it. 
Little Munchkins Playdough is made from completely non-toxic, food grade ingredients. Whilst all are safely ingestible on their own, the playdough has a very high salt content, so it is not recommended to be eaten.

Playdough should be stored in the air tight jar provided and in a cool dark place. Whilst we work hard to produce consistent colours with what you see, there could be slight colour variations due to monitor and phone colours as well as the postage environment . Remember your dough likes to be handled regularly.

Salt crystals - If your dough is left unused salt crystals may appear on top. This is perfectly normal, the dough is fine . Play with it and the salt crystals will disappear back in to the dough. Some sets contain loose parts which could be a choking hazard. Be vigilant.

Recommended for children 3+ years. Adult supervision required. Playdough and kit should not be left unattended or stored in a place children have access to, Kits contain small parts which could be a choking hazard. Little Munchkins is not responsible for any injury associated with the use of this product. Some items contain colourings, essence and dyes that could be harmful if used inappropriately or ingested. Playdough to be discarded after 6 months if stored in an airtight container. 

ALLERGEN INFO: Contains WHEAT , Salt , Food Colouring / Plant Dye, Cream of tartar, Vegetable oil, Essential oil. Does not contain... Nuts, dairy, eggs or soy, but is handmade in a facility that contains those items so even though the utmost care is taken to produce playdough in a clean environment, cross contamination could occur. Essential oil used – Please see bottom of container.
The Arctic At Night is far and away, one of our most popular items. People can't seem to get enough of it.

Inventory Last Updated: Dec 09, 2023