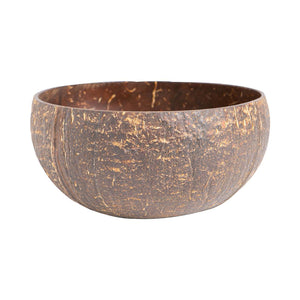 SMALL COCONUT BOWL
Perfect addition to any potion kit. Crafted by hand from discarded coconut shells, these dishes offer ample room for whatever combination you desire. 
The unique character of each individual piece infuses any interior with a raw, rustic warmth and ambience, while the natural strength and durability of the coconut fibres should ensure these bowls will be a part of your culinary culture for years to come.
Protip: To best preserve your bowl's condition, rehydrate with coconut oil once a month.
Features
Hand-Crafted from Discarded Coconut Shells - A sustainable, eco-friendly alternative to plastic dinnerware
Biodegradable - Add to your compost or green waste at the end of your bowl's life to safely return it to nature
Hand Wash Only - Rehydrate with coconut oil polish once a month to preserve and prolong your bowl's use and life
The Small Coconut Bowl is evocative, to say the least, but that's why you're drawn to it in the first place.

Inventory Last Updated: Dec 09, 2023